U. S. CIVIL WAR
PHOTOGRAPHS
THE WILDERNESS
(PAGE 12 OF 12)
---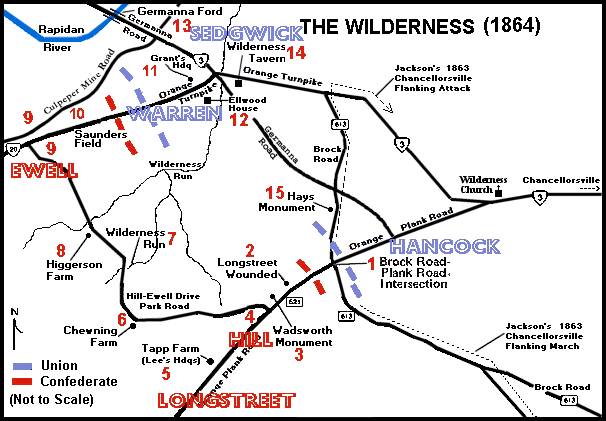 Click on a number on this map to see a photograph from that location.
The numbered locations on this map are shown in parentheses (   ) in the text.
&nbsp





General James Longstreet &nbsp 10


At this time, General James Longstreet rode around the Confederate right in an effort to extend his attack to the east. There he was accidentally shot by his own men (2), just as Stonewall Jackson had been one year earlier, almost to the day, during the battle of Chancellorsville. Longstreet was seriously wounded in the neck and shoulder, but would return later in the year.



&nbsp &nbsp &nbsp &nbsp &nbsp &nbsp &nbsp &nbsp &nbsp &nbsp &nbsp &nbsp
The Location (according to the N.P.S.) where Longstreet was shot. &nbsp (2)


General John B. Gordon &nbsp 95


Later Confederate General John B. Gordon made a flanking attack to the Union right with amazing success, capturing or killing over 1,000 Federals before he had to stop due to the confusion of the Wilderness and darkness.
&nbsp
---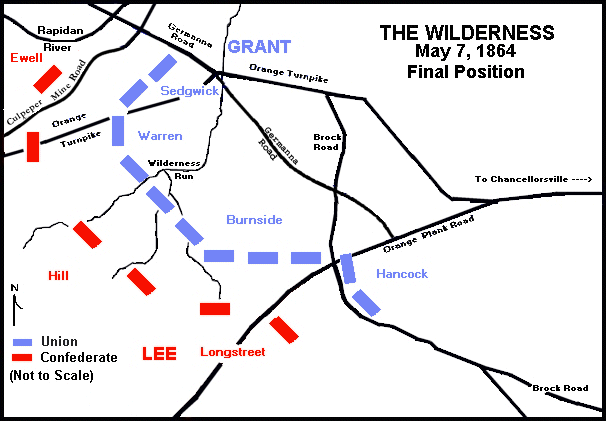 Approximate Final Troop Positions, May 7, 1864.
| | | |
| --- | --- | --- |
| &nbsp | On the morning of May 7, 1864, Grant directed Meade to prepare for a night march to Spotsylvania Court House. Thus ended the battle in the Wilderness and began a race between the two armies to Spotsylvania Court House. A race the Confederate army barely won. | &nbsp |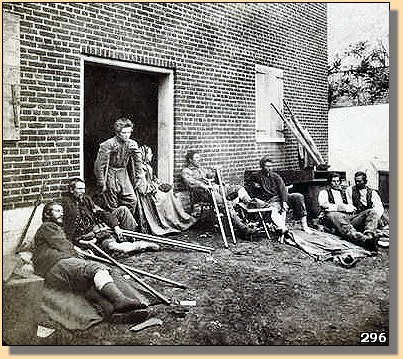 Soldiers, at Fredericksburg, wounded in the Wilderness Battle - 1864
---

&gt Photos &gt The Wilderness &gt Page 2 &gt 3 &gt 4 &gt 5 &gt 6 &gt 7 &gt 8 &gt 9 &gt 10 &gt 11 &gt 12
---
Notes