&nbsp


The Confederate artillery at Widow Tapp farm was no match for such a large infantry force. As Union troops began flanking the artillery, Lee saw a group of Confederate soldiers running eastward on the Plank Road.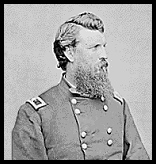 General John Gregg &nbsp 97
They were Texans from Hood's old brigade commanded by General John Gregg. Longstreet's forces were finally up. Lee, caught up in the excitement, rode forward to lead them into battle but the troops yelled "Go back, General Lee, go back." A sergeant grabbed Lee's bridle rein and his aide, Colonel Charles Veneable, shouted above the noise, that he should go back and give orders to Longstreet. Lee waved the troops on and then rode to Longstreet, who bluntly told him he should go further behind the lines.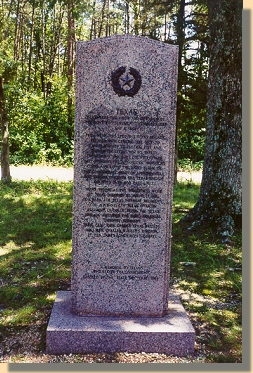 Texas Monument at Widow Tapp Farm - 2000 &nbsp (5)




TEXAS
REMEMBERS THE VALOR AND DEVOTION OF
HER SONS WHO SERVED AT THE WILDERNESS
MAY 6, 1864
FROM NEAR THIS SPOT THE TEXAS BRIGADE
PLEADED WITH GENERAL LEE NOT TO
EXPOSE HIMSELF TO FEDERAL FIRE AND
THEN, AFTER SEEING HIM TO SAFETY,
LAUNCHED A VIGOROUS COUNTERATTACK
THAT STEMMED THE ADVANCE OF HANCOCK'S
CORPS AND SAVED THE RIGHT FLANK OF
THE CONFEDERATE ARMY. OF APPROXIMATELY
800 TROOPS INVOLVED, THE TEXAS BRIGADE
COUNTED OVER 500 CASUALTIES



A portion of the Texas Monument Text &nbsp (5)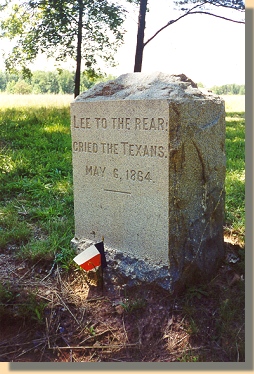 "Lee to the Rear" Monument at Widow Tapp Farm - 2000 &nbsp (5)
&nbsp