U. S. CIVIL WAR
PHOTOGRAPHS
CHANCELLORSVILLE
(PAGE 7 OF 8)


---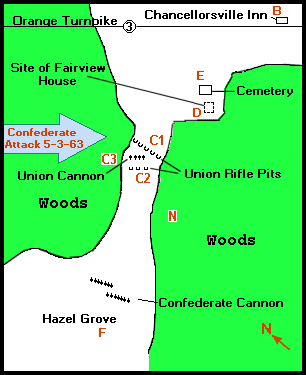 The letters in parentheses ( &nbsp ), below, refer to locations on this map.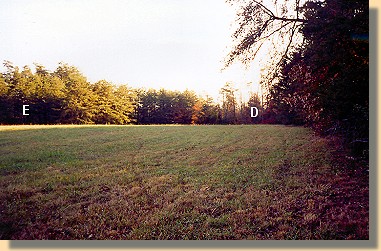 Where the Fairview House once stood (D) and
the location of the Chancellor Cemetery (E).
This 2002 photograph was taken in front of the N.P.S. Fairview House sign.
(The Fairview House sign is located almost directly under the "D,E" mark on the "View from Rifle Pits towards the Chancellorsville Inn" photograph, above.)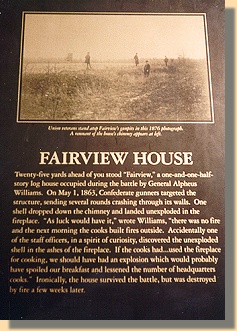 (D)
N.P.S. Fairview House Sign.
(Click Here to read the text)



Copies (marked and unmarked) of the 1876 photograph
on the "N. P. S. Fairview House Sign", above.
In the photographs above,
Union veterans are standing at the Fairview rifle pits (C1).


The chimney, on the distant left, is all that remains of the Fairview House (D). It was destroyed by fire several weeks after the battle.


The Chancellor cemetery (E) is located to the left of the chimney, out of camera range.
CHANCELLOR CEMETERY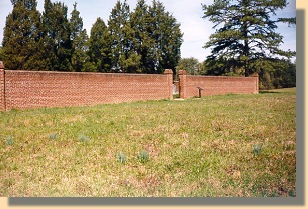 (E)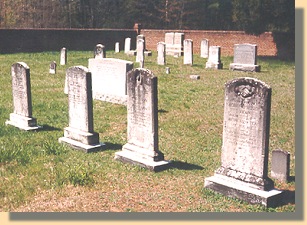 The Chancellor Cemetery (1999).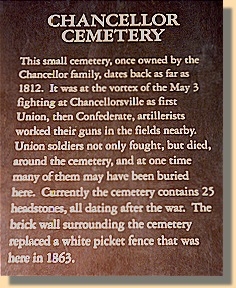 Cemetery Plaque &nbsp (E)
(Click Here for a list of the Monuments in the cemetery.)

PAGE EIGHT


---

&gt Civil War Photos &gt Chancellorsville &gt Page 2 &gt 3 &gt 4 &gt 5 &gt 6 &gt
7
&gt 8

---
Notes