&nbsp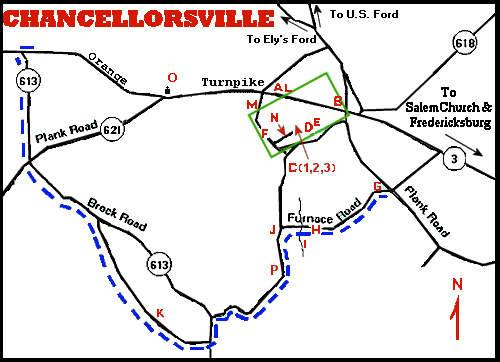 Chancellorsville Map
Described on Page 1.
(The green rectangle outlines the map below.)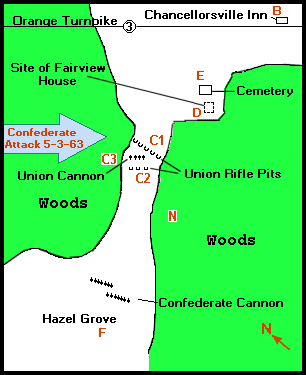 A closer view of the Hazel Grove - Chancellorsville Inn area.
The letters in parentheses ( &nbsp ), below, refer to locations on this map.
A very brief description of the events at the locations indicated on this map:


Early on the morning of May 3, 1863, Hooker, adjusting his lines, moved the Union Cannon from Hazel Grove to near the Fairview house.



J.E.B. Stuart, commanding Jackson's forces, immediately occupied Hazel Grove with more cannon than he had room to place there. Lee arrived, consolidating the two wings of his army which had been divided during Jackson's flanking move.



Confederate sharpshooters, cannon fire, and troops attacking from the Northwest, forced the Union troops to abandon Fairview and relocate to around the Chancellorsville Inn.



Confederate attacks, with support from cannon at Fairview, forced Hooker to withdraw from the Chancellorsville Inn area to the Rappahannock River near United States Ford.



After the battle of Salem Church, between Chancellorsville and Fredericksburg, Hooker moved his forces across the Rappahannock River, thus concluding the battle of Chancellorsville.
&nbsp