U. S. CIVIL WAR
PHOTOGRAPHS
CHANCELLORSVILLE
(PAGE 8 OF 8)


---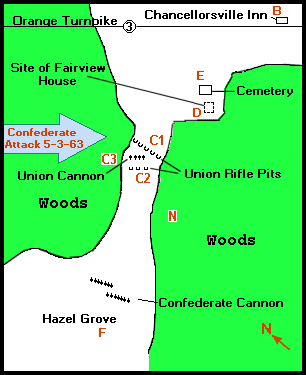 The letters in parentheses ( &nbsp ), below, refer to locations on this map.
CHANCELLORSVILLE INN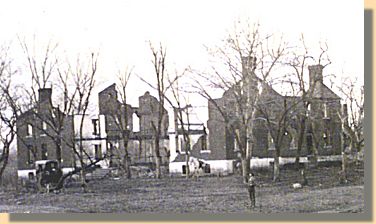 88 &nbsp
Chancellorsville Inn - 1863. &nbsp (B)
| | | |
| --- | --- | --- |
| &nbsp | When the Confederates finally overran Chancellorsville, their cannon fire destroyed the Chancellorsville inn. It was on the porch of this house that Union General Hooker was injured when cannon fire almost killed him. Some writers believe the injury affected his later decisions regarding the battle. The 1863 photograph, above, shows the condition of the inn about one year after the battle. The 2000 photograph, below, shows the foundation of the inn which faces the now heavily traveled State Route 3 (The old Orange Turnpike). | &nbsp |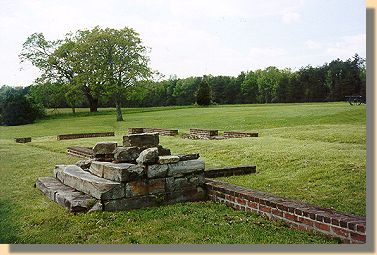 Chancellorsville Inn - 2000. &nbsp (B)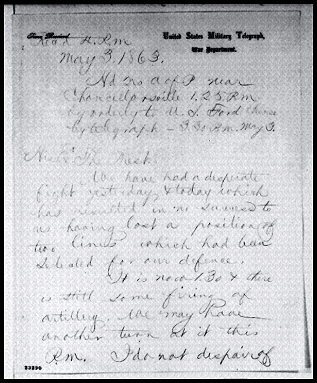 &nbsp 168
General Joseph Hooker to Abraham Lincoln, May 3, 1863.
(First page of telegram reporting the battle at Chancellorsville)



From Joseph Hooker to Abraham Lincoln1, May 3, 1863

[Note 1 The following is a report on the battle of Chancellorsville.]

Recd 4. P.M

May 3. 1863.

Hd Qrs A of P near

Chancellorsville 1.25. P.M.

by orderly to U. S. Ford thence

by telegraph -- 3.30 P.M. May 3.

We have had a desperate fight yesterday & today which has resulted in no success to us having lost a position of two lines which had been selected for our defence.

It is now 1.30 & there is still some firing of artillery. We may have another turn at it this P. M. I do not despair of success. If Sedgwick could have gotten up there could have been but one result. As it is impossible for me to know the exact position of Sedgwick as regards his ability to advance & take part in the engagement, I cannot tell when it will End.2

[Note 2 John Sedgwick's 6th Corps finally advanced on May 3 but was forced to retreat on the evening of May 4.]

We will endeavor to do our best. My troops are in good spirits,

We have fought desperately today. No General ever Commanded a more devoted army,

Jos Hooker

Maj Genl

Joseph Hooker to Abraham Lincoln, May 3, 1863 (Telegram reporting battle at Chancellorsville). Transcribed and annotated by the Lincoln Studies Center, Knox College, Galesburg, Illinois. Available at Abraham Lincoln Papers at the Library of Congress, Manuscript Division (Washington, D.C.: American Memory Project, [2000-02]), http:/memory.loc.gov/ammem/alhtml/alhome.shtml, accessed [March 23, 2003].


---

&gt Civil War Photos &gt Chancellorsville &gt Page 2 &gt 3 &gt 4 &gt 5 &gt 6 &gt 7 &gt 8

---
Notes