&nbsp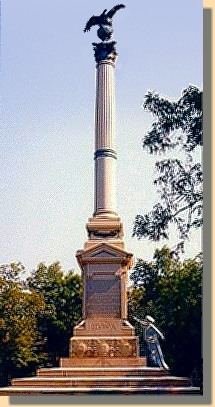 &nbsp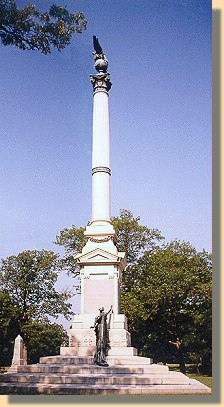 Iowa State Monument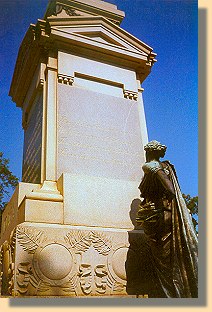 On the steps, at the right of the monument, is a statue,
symbolic of "Fame". It is inscribing on the monument,
a tribute to the Iowa soldiers who fought in this battle.




THIS MONUMENT IS ERECTED BY THE STATE OF
IOWA IN
COMMEMORATION OF THE LOYALTY,
PATRIOTISM AND BRAVERY OF HER
SONS WHO, ON THIS BATTLEFIELD OF SHILOH
ON THE 6th AND 7th
DAYS OF APRIL, A.D. 1862, FOUGHT TO
PERPETUATE THE SACRED
UNION OF THE STATES.
--IOWA--


Iowa State Monument Text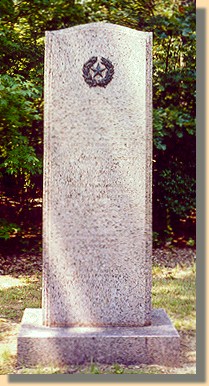 Texas State Monument
TEXAS


REMEMBER THE VALOR AND DEVOTION OF
HER SONS WHO SERVED AT SHILOH
APRIL 6-7, 1862.

HERE THE RANGERS UPHELD THE FAME OF
THE NAME THEY BORE, THE 2ND TEXAS
FOUGHT WITH GALLANTRY AND THE 9TH
TEXAS RESPONDED TO ANY DEMAND UPON
ITS COURAGE AND ENDURANCE.

GENERAL ALBERT SIDNEY JOHNSTON OF
TEXAS GAVE HIS LIFE IN THIS BATTLE.

TEXAS TROOPS AT SHILOH WERE:

9TH TEXAS INFANTRY,
COLONEL WRIGHT A. STANLEY,
(BRIG. GEN. PATTON ANDERSON'S BRIGADE,
RUGGLES'S DIVISION, BRAGG'S CORPS)

2ND TEXAS INFANTRY, COL. JOHN C. MOORE,
LIEUTENANT COLONEL WILLIAM A. ROGERS,
MAJOR HAL G. RUNNELS,
(BRIG. GEN. JOHN K. JACKSON'S BRIGADE,
WITHERS'S DIVISION, BRAGG'S CORPS)

8TH TEXAS CAVALRY (RANGERS),
COLONEL JOHN A. WHARTON,
(UNATTACHED)

A MEMORIAL TO TEXANS
WHO SERVED THE CONFEDERACY
ERECTED BY THE STATE OF TEXAS 1964.


Texas State Monument Text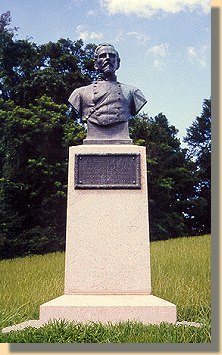 Colonel Daniel W. Adams Monument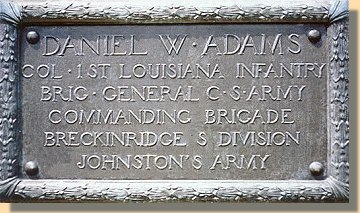 Monument Plaque



When Brig. General Adley H. Gladden was mortally wounded on the first day, April 6, 1862, Colonel Adams took command of the First Brigade, Second Division of the C. S. A. Second Army Corps.




&nbsp