U. S. A. CIVIL WAR
PHOTOGRAPHS
PAGE 2 of 2

---
&nbsp
CIVIL WAR
SITES
WESTERN THEATER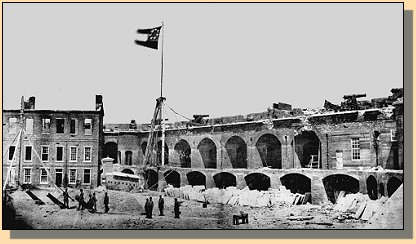 212
Fort Sumter, S.C., April 4, 1861, under the Confederate flag.
&nbsp &nbsp
WESTERN THEATER MAP

(With links to the Western Theater
Battle sections listed below)




BENTONVILLE (NC)
3 Pages, 17 Photos, 1 Map
Last major battle in North Carolina.




CHICKAMAUGA (GA)
6 Pages, 27 Photos, 0 Maps
Bragg & Longstreet take advantage
of a Union mistake.




FORT DONELSON (TN)
3 Pages, 18 Photos, 1 Map
Grant wins an "Unconditional Surrender".




FRANKLIN (TN)
5 Pages, 25 Photos, 1 Map
Failed frontal attack and six
Confederate Generals killed.




LOOKOUT MOUNTAIN (TN)
10 Pages, 22 Photos, 0 Maps
"Battle above the clouds."





MISSIONARY RIDGE (TN)
6 Pages, 25 Photos, 2 Maps
A Union victory raises
the siege of Chattanooga.



MURFREESBORO (TN) (Stones River)
6 Pages, 31 Photos, 4 Maps
Confederates are thrown back in
a see-saw New Years 1863 battle.





SHILOH (TN)
8 Pages, 39 Photos, 0 Maps
Grant's mastery of the Confederate
forces continues.



VICKSBURG (MS)
11 Pages, 43 Photos, 2 Maps
The Confederacy is effectively
split in half.




&nbsp
CIVIL WAR
SITES
OTHER & PENDING
&nbsp &nbsp


CIVIL WAR RIVERS & STREAMS
5 Pages, 31 Photos, 0 Maps
Rivers & Streams involved with
Civil War,




OTHER SITES & BATTLES
3 Pages, 9 Photos, 0 Maps
Sites and battles having only a few
photographs: Farmville Confederate
Cemetery, Jack's Shop (Rochelle),
The Lincoln Gun, and Nance's Shop.




PENDING PHOTOGRAPHS
(See Note)
2 Pages, 5 Photos, 0 Maps
Photographs awaiting transfer
to another section.






---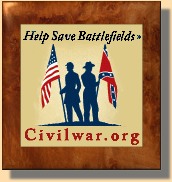 ---

&gt Civil War Photographs &gt Page 2

---
19th Century Photographs Notes


19th Century Photographs Notes
---
Except for the items provided with permission to the author of this Site, this complete Site is Copyright

; 2000 - 2021. All Rights are Reserved. No portion of this site, including this index page and any of the separate pages, may be copied, retransmitted, reposted, duplicated or otherwise used without the express written permission of USA Civil War.com.
---