U. S. CIVIL WAR
PHOTOGRAPHS
PENDING
PHOTOGRAPHS

---
This section contains Civil War photographs awaiting transfer to one of the other sections on this site. (Description)
---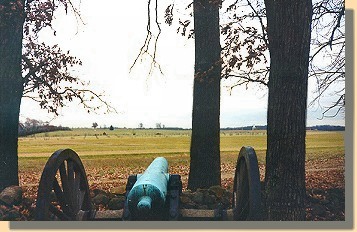 Gettysburg - Confederate View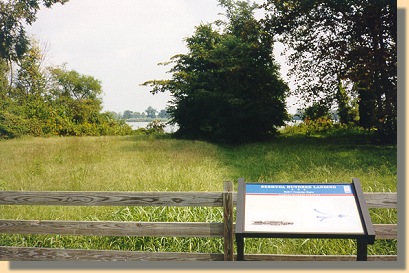 Bermuda Hundred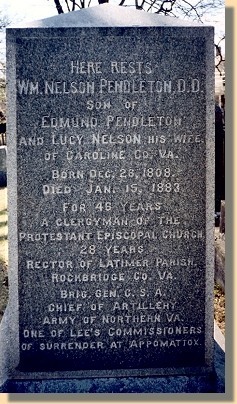 C.S.A. General William N. Pendleton's Gravestone at the
Stonewall Jackson Memorial Cemetery
Lexington, Virginia
HERE RESTS
WM.NELSON PENDLETON,D.D.
SON OF
EDMUND PENDLETON
AND LUCY NELSON HIS WIFE,
OF CAROLINE CO. VA.
BORN DEC. 28, 1808
DIED JAN. 15, 1883
FOR 46 YEARS
A CLERGYMAN OF THE
PROTESTANT EPISCOPAL CHURCH
28 YEARS
RECTOR OF LATIMER PARISH,
ROCKBRIDGE CO. VA.
BRIG. GEN. ARTILLERY
ONE OF LEE'S COMMISSIONERS
OF SURRENDER AT APPOMATTOX.

---

&gt Civil War Photos &gt Pending Photos

---


19th Century Photographs Notes
---
Except for the items provided with permission to the author of this Site, this complete Site is Copyright

; 2000 - 2017. All Rights are Reserved. No portion of this site, including this index page and any of the separate pages, may be copied, retransmitted, reposted, duplicated or otherwise used without the express written permission of USA Civil War.com.
---