&nbsp
After the Confederate Army

, under General Braxton Bragg, withdrew from Lookout Mountain on the night of November 24, 1863, they established a strong defensive line on Missionary Ridge.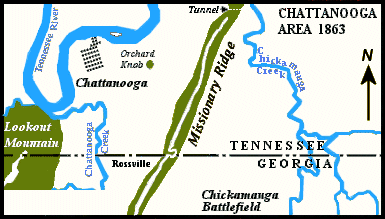 Missionary Ridge is an elevated range, east of Chattanooga, several hundred feet above the the city, and running northeast to southwest for approximately six miles. General Bragg felt the Confederate position on Missionary Ridge was so strong that he detached 15,000 men to attack Knoxville.

Bragg's right flank

was held by 14 brigades

in Hardee's corps

. Breckinridge had nine brigades with which to cover a two and one-half mile front opposite Grant's center. Three parallel lines of entrenchments had been laid out and partially completed. One line was along the base of the ridge; another had been started about half-way up the slope; and a third was along the crest.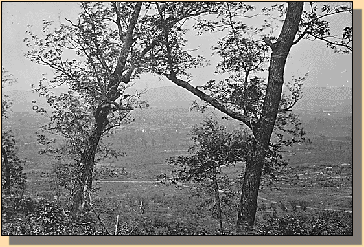 217
Photograph of the Orchard Knob area taken from Missionary Ridge - 1864
Early the next morning, November 25th, U.S. General Ulysses S. Grant moved his headquarters to Orchard Knob, a rocky eminence, arising about a hundred feet above Chattanooga and located about a third of a mile from the base of Missionary Ridge.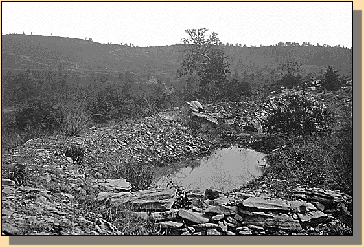 218
Photograph of Missionary Ridge taken from Orchard Knob - 1860's



General Bragg's Headquarters, located behind the Confederate line on Missionary Ridge, was visible from Orchard Knob.

With the Confederate retreat from Lookout Mountain, Missionary Ridge now became the center of attention regarding the seige

of Chattanooga.



&nbsp