&nbsp
After Gen. Braxton Bragg's defeat at Perryville, Kentucky, October 8, 1862, he and his Confederate Army of the Mississippi retreated, reorganized, and were redesignated as the Army of Tennessee. They then advanced to Murfreesboro, Tennessee, and prepared to go into winter quarters.

Maj. Gen. William S. Rosecrans' Union Army of the Cumberland followed Bragg from Kentucky to Nashville. Rosecrans left Nashville on December 26, with about 44,000 men, to defeat Bragg's army of more than 37,000. He found Bragg's army on December 30 and went into camp that night, within hearing distance of the Rebels.




Location of (not "Direction of") the photographs in the section
Letters at the photographs in this section refer to this map
(Click on any letter above to see a representative photograph)


A - Rosecran's Headquarters
B - Union Artillery Monument
C - Hazen's Artillery
D - Stones River
E - Chicago Board of Trade Battery

F - The Cotton Field
G - Parson's Battery
H - Abandoned Union Cannon
I - Hazen's Monument
J - Bragg's Second Headquarters

K - National Cemetery

DECEMBER 31, 1862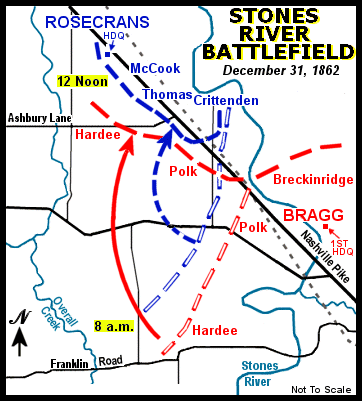 December 31, 1862



The Confederates seized the advantage by striking first. At dawn, on December 31, two of Lt. Gen. William J. Hardee's divisions

, supported by divisions of Lt. Gen. Leonidas Polk, assaulted the Union right wing under Maj. Gen. Alexander M. McCook. By 10 a.m. the Southerners had driven it and part of the center back through the surrounding cedar woods almost to Nashville Pike. Only stubborn fighting by units under Brig. Gen. Philip H. Sheridan and Brig. Gen. James S. Negley prevented a Union rout.



&nbsp