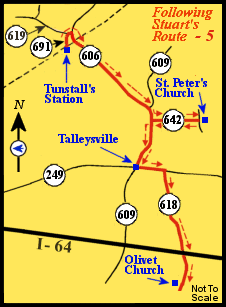 Route (in red) from Tunstall's Station, upper
left, to St. Peter's Church, Talleysville, and the
Olivet Church, lower right.

Following the Route Numbers:

Using Route 642 we return to Route 609 and turn left.

After a mile we arrive at the intersection of Route 609 and Route 249. This is Talleysville.


... The roads at this point were far worse than ours, and the artillery had much difficulty in passing. Our march was finally continued by bright moonlight to Talleysville, where we halted 3 1/2 hours for the column to close up. At this point we passed a large hospital of 150 patients. I deemed it proper not to molest the surgeons and attendants in charge ...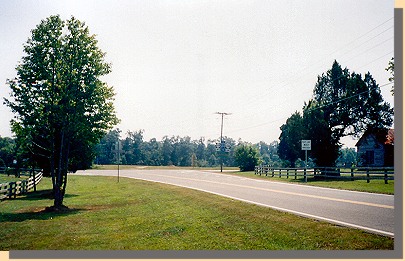 (T)
Talleysville.


Where Stuart's troops rested the night of June 13, 1862. (You are looking East on Route 249. Route 609 is crossing in front of you.)



Following the Route Numbers:

We turn left from Route 609 onto Route 249, New Kent Highway.

About a one-half mile down Route 249, we turn right onto Route 618, Olivet Church Road.

A mile and one-half past where Route 618 crosses over Interstate 64, we come to Olivet Church on the right.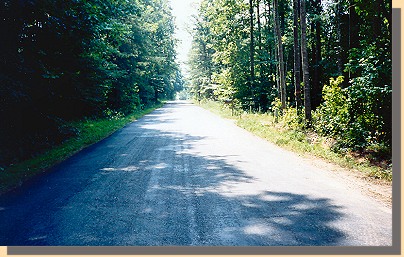 (U)
Road to Olivet Church.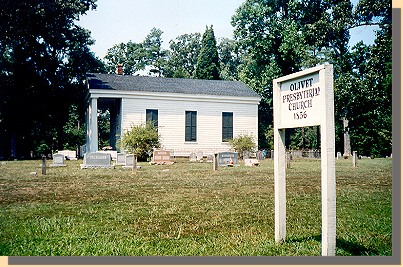 (V)
Olivet Church.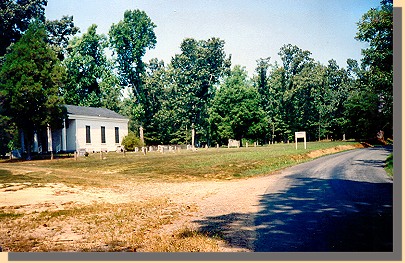 (V)
Olivet Church.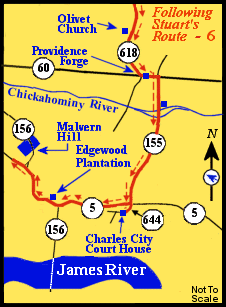 Route (in red) from Olivet Church, upper center,
to the Malvern Hill Battlefield, middle left.

Following the Route Numbers:

Continuing down Route 618, we make a left turn onto Route 60 at Providence Forge.

Almost immediately we make a right turn onto Route 155.

About three-fourths of a mile down Route 155 we come to two bridges crossing branches of the Chickahominy River


...At 12 o'clock at night the march was continued without incident under the most favorable auspices to Forge Bridge (8 miles), over the Chickahominy, where we arrived just at daylight. Lee, of the Ninth, by personal experiment having found the stream not fordable, axes were sent for and every means taken to overcome the difficulties by improvised bridges and swimming. I immediately dispatched to you information of my situation and asked for the diversion already referred to. The progress in crossing was very slow at the point chosen, just above Forge Bridge, and learning that at the bridge proper enough of the debris of the old bridge remained to facilitate the construction of another, material for which was afforded by a large warehouse adjacent, I moved to that point at once. Lieut. Redmond Burke, who in every sphere has rendered most valuable service and deserves the highest consideration at the hands of the Government, set to work with a party to construct the bridge. A foot-bridge was soon improvised, and the horses were crossed over as rapidly as possible by swimming. Burke's work proceeded like magic; in three hours it was ready to bear artillery and cavalry, and as half of the latter had not yet crossed, the bridge enabled the whole to reach the other bank by 1 p. m. Another branch of the Chickahominy still farther on was with some difficulty forded, and the march was continued without interruption toward Richmond ...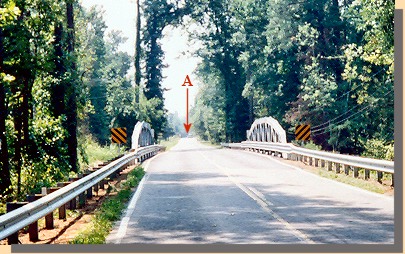 (W)
Route 155 crossing the Chickahominy River (two channels).
The arrow points to the second bridge.