&nbsp
Lookout Mountain, Missionary Ridge, and Chattanooga...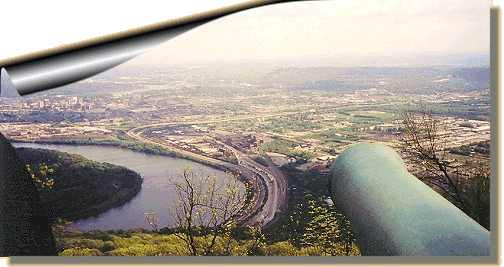 View of Chattanooga (background) and the Tennessee River
(foreground) taken from Lookout Mountain - 2002.



&nbsp




&nbsp
Gen. U. S. Grant (left) with some of his officers
(right) on Lookout Summit - 1863. (Note 128)


Photograph of the same location - 2002.

&nbsp
[Comparing the 1863 photograph (left) to the 2002 photograph (right); In the 2002 photograph, Grant stood near the location marked with an "A", his officers were near "B" and the white dotted line marks the approximate location of the edge of the cliff, which is visible in the 1863 photograph, but hidden by foliage in the 2002 photograph.]





Promoted to Lieutenant General March 9, 1864 after his victory at Chattanooga, Grant was then made General in Chief of the Armies of the United States just three days later.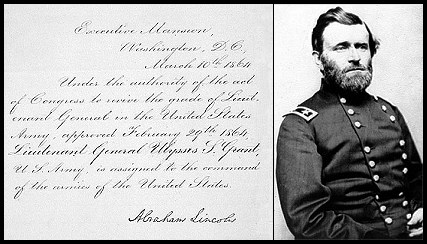 &nbsp 44
General Ulysses S. Grant and his appointment as Lieutenant General,
Commander of all United States Armies, by President Abraham Lincoln.
Click HERE to read the Appointment.
After his promotion, Grant decided to accompany General George G. Meade and the Army of the Potomac

in the East. This caused Meade, the Army's commander, considerable frustration.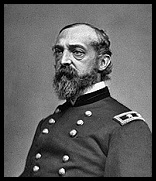 &nbsp 50
General George G. Meade


As expected, Grant took over direct control of the Army of the Potomac. Under his command, the Union Army fought Robert E. Lee and the Confederate Army of Northern Virginia

, during the 1864 Overland Campaign

, in the Wilderness, at Spotsylvania, at North Anna, at Cold Harbor, and at Petersburg.


In the Wilderness...



&nbsp




Location of Grant's Headquarters



On May 5, 1864, this knoll was bordered by a second growth of scraggly pines and scrub oak. From here Grant and Meade could see little of the battle. Instead, they relied on subordinates to keep them apprised of the situation at the front. In the evenings the Generals retired to their camp at the foot of the knoll between here and the Germanna Plank Road (modern Route 3). Otherwise, they rarely left this spot.

Over the next three days, as the two armies grappled in the deep woods, Grant and Meade remained at this knoll, sending and receiving dispatches as they fed troops into the battle.

More than once Meade lost his temper. Outwardly, Grant remained calm, but his nervous puffing of cigars and whittling of sticks showed that he too felt the strain.

Source: National Park Service


&nbsp
&nbsp