U. S. CIVIL WAR
PHOTOGRAPHS
TODD'S TAVERN
(PAGE 3 OF 5)






---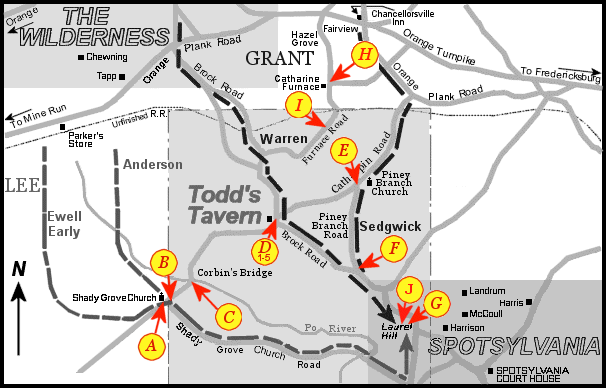 Location of Photographs in this Section
The letters in parenthesis, i.e. (B), in the following text refer back to this map.
(Click on a letter on this map to see a representative photograph.)
Major General Phillip H. Sheridan commanded the Union army's cavalry. Sheridan had held Todd's Tavern during the Battle of the Wilderness, but had withdrawn his horsemen toward Chancellorsville on the night of May 6th, allowing Major General Fitzhugh Lee's Confederates to reoccupy the intersection. Lee's men occupied and strengthened trenches abandoned by Sheridan near the tavern.

Grant's plans to march the army to Spotsylvania required Sheridan to retake Todd's Tavern from Fitz Lee. Sheridan assigned Major Generals Wesley Merritt's and David M. Gregg's divisions to the task. Merritt would advance south from Catharine Furnace to clear the Brock Road.





Part of the Catharine Furnace - 2005 &nbsp (H)




Road from Catharine Furnace - 2005 &nbsp (I)





At the same time, General Gregg would leave his camp at the Alrich Farm and push west up the Catharpin Road. The two would meet at Todd's Tavern. Once the crossroads was in their hands, Gregg would continue west on the Catharpin Road and seize Corbin's Bridge over the Po River.





Location of Corbin's Bridge. &nbsp (C)
Over the Po River.






Sheridan's Plan.
PAGE FOUR
---

&gt Civil War Photos &gt Todds Tavern &gt Page 2 &gt 3 &gt 4 &gt 5

---

Copyright 2005 - 2012 by USACivilWar.com.


19th Century Photographs Notes
---
Except for the items provided with permission to the author of this Site, this complete Site is Copyright

; 2000 - 2017. All Rights are Reserved. No portion of this site, including this index page and any of the separate pages, may be copied, retransmitted, reposted, duplicated or otherwise used without the express written permission of USA Civil War.com.
---