U. S. CIVIL WAR
PHOTOGRAPHS
TODD'S TAVERN
(PAGE 1 OF 5)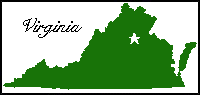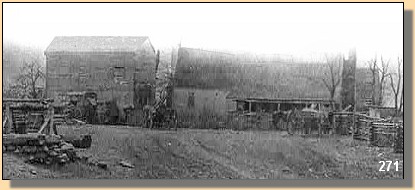 Todd's Tavern at Junction of Brock, Catharpin and Piney Branch Roads.



In the text, the icon

is a link to the definition of the word it marks.
Use your browser's "back" button to return to this page.
---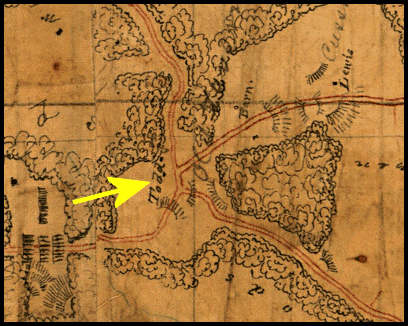 1862 Map of Spotsylvania County, Virginia, &nbsp 223
showing Todd's Tavern (Arrow).
| | | |
| --- | --- | --- |
| | On May 4, 1864, Lieutenant General Ulysses S. Grant led Major General George G. Meade's Union Army of the Potomac across the Rapidan River into the tangles of the Wilderness. Robert E. Lee attacked him there, and in two days of heavy fighting Grant had both flanks turned and took more than 17,000 casualties. Rather than retreat, he issued orders on May 7 for a night march to Spotsylvania Court House, the next stop on the road to Richmond. To get there, his cavalry would first have to clear Confederate cavalry from the Brock Road. This would lead to some of the most intense and important cavalry fighting of war around a country crossroads called Todd's Tavern. | |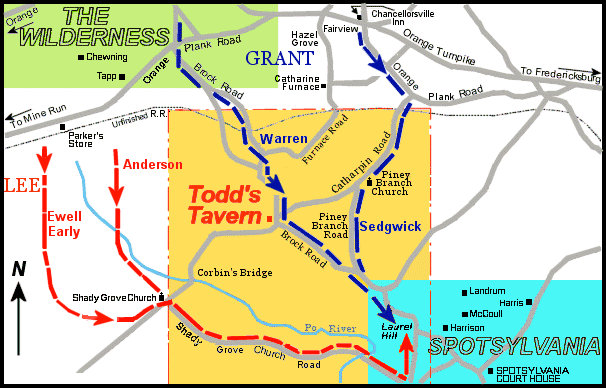 Movement of the Union and Confederate Armys from the Wilderness to Spotsylvania.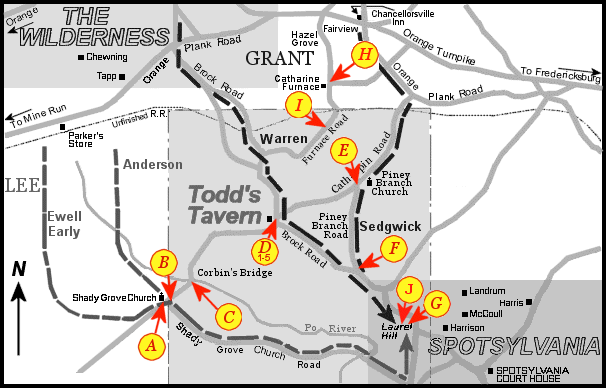 Location of Photographs in this Section
The letters in parenthesis, i.e. (B), in the following text refer back to this map.
(Click on a letter on this map to see a representative photograph.)
PAGE TWO
---

&gt Civil War Photos &gt Todds Tavern &gt 2 &gt 3 &gt 4 &gt 5
---
Notes

Copyright 2005 - 2012 by USACivilWar.com.


19th Century Photographs Notes
---
Except for the items provided with permission to the author of this Site, this complete Site is Copyright

; 2000 - 2017. All Rights are Reserved. No portion of this site, including this index page and any of the separate pages, may be copied, retransmitted, reposted, duplicated or otherwise used without the express written permission of USA Civil War.com.
---