&nbsp


After Gettysburg, with Vicksburg fallen, and the Army of Tennessee

having been pushed back, south of Chattanooga and into northern Georgia, Longstreet and two of his divisions

were sent as reinforcements.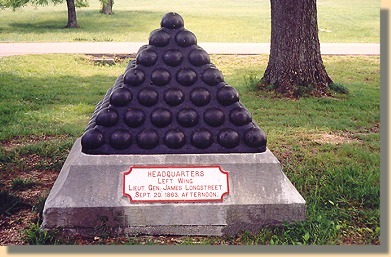 Lt. Gen. James Longstreet's Headquarters Monument
At Chickamauga

Lt. Gen. James Longstreet's Headquarters Plaque
At Chickamauga
When Longstreet arrived on the banks of Chickamauga Creek in North Georgia, Union General Rosecrans was threatening to push past the Confederates and split the Confederacy into sections. Longstreet arrived in time to participate in the Confederate victory at the Battle of Chickamauga. His troops broke through the Union line resulting in the defeat of Union forces under Rosecrans. When General Braxton Bragg failed to follow up on this victory, Longstreet began plotting against him with some others of his subordinate generals. Longstreet was then sent to Tennesse and failed on the assignment to chase Burnside's union forces out of Knoxville.

Upon his return, with his troops, to Virginia, Longstreet rejoined Lee's Army of Northern Virginia, just in time to play an important part in the Battle of the Wilderness. Longstreet's troops were involved in the famous "Lee to the rear" incident.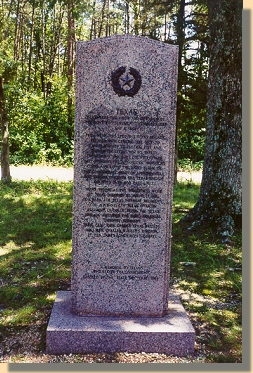 Texas Monument at Widow Tapp Farm - 2000
TEXAS

REMEMBERS THE VALOR AND DEVOTION OF
HER SONS WHO SERVED AT THE WILDERNESS
MAY 6, 1864
FROM NEAR THIS SPOT THE TEXAS BRIGADE
PLEADED WITH GENERAL LEE NOT TO
EXPOSE HIMSELF TO FEDERAL FIRE AND
THEN, AFTER SEEING HIM TO SAFETY,
LAUNCHED A VIGOROUS COUNTERATTACK
THAT STEMMED THE ADVANCE OF HANCOCK'S
CORPS AND SAVED THE RIGHT FLANK OF
THE CONFEDERATE ARMY. OF APPROXIMATELY
800 TROOPS INVOLVED, THE TEXAS BRIGADE
COUNTED OVER 500 CASUALTIES


A portion of the Texas Monument Text
When Longstreet's troops arrived at Lee's position, literally at the last minute, Lee was so excited that he attempted to lead them in battle. The Texas troops refused to fight unless Lee went to the rear.

On the second day of fighting (Almost exactly one year later, and three miles away from where Stonewall Jackson was shot by his own men during the Battle of Chancellorsville), Longstreet was shot by his own men in the thickets of the Wilderness.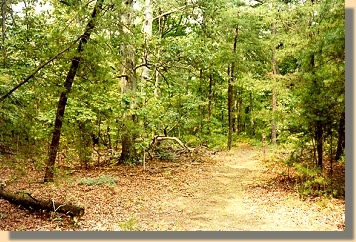 The Location (according to the N.P.S.) where Longstreet was shot.
Longstreet's recovery would keep him out of command until October, 1864, but he came back in time to join Lee at Petersburg.

The Federals struck Lee's right flank

on April 1, 1865 at Five Forks.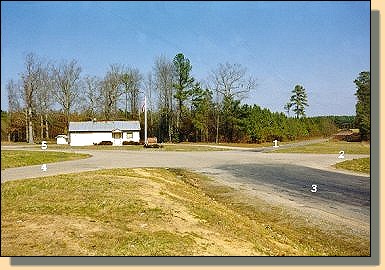 Five Forks - June, 1998.
The five roads are numbered in the photo.
The National Park Service building is on the left.



On April 2, the Federals attacked all along the line around Petersburg. The Confederate line collapsed, causing Petersburg and Richmond to be abandoned. Three days later, Lee's army surrendered at Appomattox.



&nbsp