U. S. CIVIL WAR
PHOTOGRAPHS
GAINES' MILL
(PAGE 3 OF 3)








---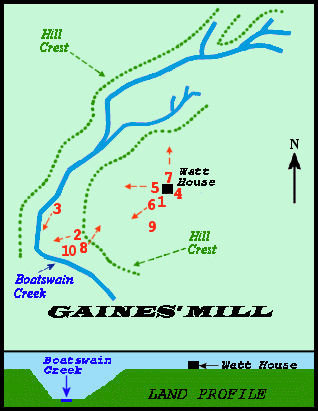 Gaines' Mill Battlefield Map
Showing location and direction of photographs.
(Numbers in parentheses in the text refer to this map.)




Cannon at Gaines' Mill - Summer, 1998 &nbsp (9)

Same Location - November, 2001 &nbsp (9)
The woods have been cut back.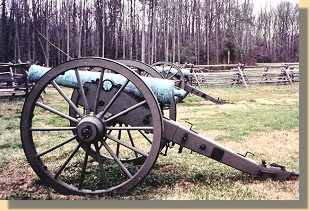 Same Location - January 2005 &nbsp (9)
A fence line has been added.
Regarding the cannon photographs above, although the locations are the same, it appears that the cannon are not. - Ed.
---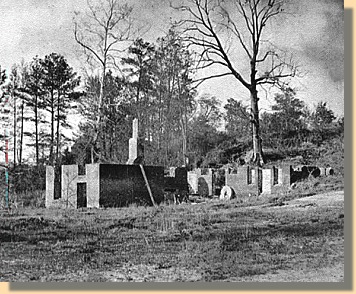 82
Ruins of the Mill - April, 1865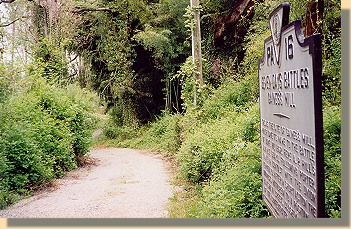 Location of Gaines' Mill - April, 2005

The sign reads:


SEVEN DAYS BATTLES
GAINES'S MILL

---
THIS IS THE SITE OF GAINES'S MILL
WHICH GAVE ITS NAME TO THE BATTLE
ON JUNE 27, 1862. HERE A. P. HILL'S
ADVANCE GUARD, FOLLOWING PORTER,
CAME IN CONTACT WITH THE UNION
REARGUARD. AFTER A SHORT ACTION THE
UNIONISTS WITHDREW TO A POSITION ON
BOATSWAIN CREEK, CLOSELY PURSUED
BY THE CONFEDERATES.

---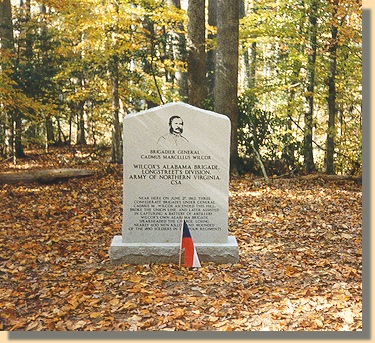 Alabama Monument at Gaines' Mill - 1999 &nbsp (10)
| | |
| --- | --- |
| Front of the Monument | Back of the Monument |
---

&gt Civil War Photos &gt Richmond - Outlying Area &gt Gaines' Mill &gt Page 2 &gt Page 3

---

Notes


19th Century Photographs Notes
---
Except for the items provided with permission to the author of this Site, this complete Site is Copyright

; 2000 - 2017. All Rights are Reserved. No portion of this site, including this index page and any of the separate pages, may be copied, retransmitted, reposted, duplicated or otherwise used without the express written permission of USA Civil War.com.
---