U. S. CIVIL WAR
PHOTOGRAPHS
GAINES' MILL
(PAGE 1 OF 3)





Gaines' Mill - Day of Battle







In the text, the icon

is a link to the definition of the word it marks.
Use your browser's "back" button to return to the page.
---
June 27, 1862
Estimated Casualties: 15,500 total (US 6,800; CS 8,700)

This was the third of the Seven Daysí Battles. On June 27, 1862, Gen. Robert E. Lee renewed his attacks against Porter's V Corps, which had established a strong defensive line behind Boatswain's Swamp north of the Chickahominy River.




Boatswain Creek - 2001 &nbsp (3)



Porter's reinforced V Corps held fast for the afternoon against disjointed Confederate attacks, inflicting heavy casualties. At dusk, the Confederates finally mounted a coordinated assault that broke Porter's line and drove his soldiers back toward the river. The Federals retreated across the river during the night. Defeat at Gainesí Mill convinced McClellan to abandon his advance on Richmond and begin the retreat to James River. Gainesí Mill saved Richmond for the Confederacy in 1862.

(Text Source: U.S. Gov't, National Park Service)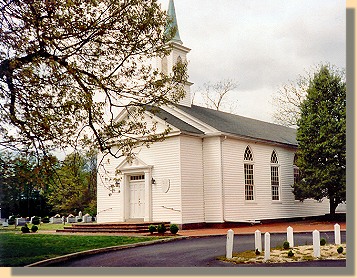 Walnut Grove Church - 2005
HERE, ON THE MORNING OF JUNE 27, 1862,
AS HE WAS DIRECTING THE PURSUIT OF
MCCLELLAN'S RIGHT WING, ROBERT E. LEE
MET STONEWALL JACKSON, WHOSE ARMY OF
THE VALLEY ARRIVED TO JOIN THE ATTACK
ON THE FEDERALS THE SAME AFTERNOON
From Douglas Freeman sign at the Church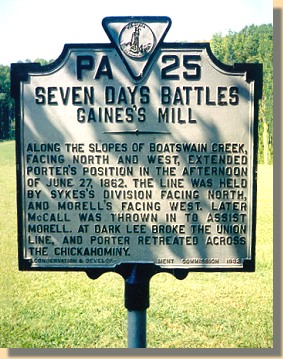 (1)


Gaines' Mill Battlefield Map.
(Troop positions are approximate.)
A relationship of the Gaines' Mill and Cold Harbor
battlefields is illustrated on the Cold Harbor Page.
Gaines' Mill Battlefield Map.
Showing location and direction of photographs.
(Numbers in parentheses in the text refer to this map.)
54
Gaines' Mill Battlefield 1860's.
Unburied Dead
Gaines' Mill Battlefield 1998 &nbsp (2)
Looking toward the Confederate line.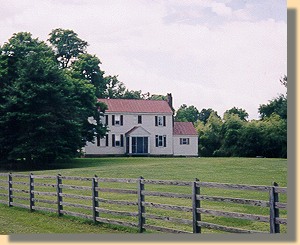 The Trent House near Savage's Station - 2001.
McClellan's Headquarters was in the yard
from June 12, 1862 until the Battle of Gaines' Mill.


A Virginia Trails Interpretive Sign is at the fence in front of the Trent House (just to the right of the photograph above). To see the sign and its text click HERE.
PAGE TWO
---

&gt Civil War Photos &gt Richmond - Outlying Area &gt Gaines' Mill &gt Page 2 &gt Page 3

---
Notes


19th Century Photographs Notes
---
Except for the items provided with permission to the author of this Site, this complete Site is Copyright

; 2000 - 2017. All Rights are Reserved. No portion of this site, including this index page and any of the separate pages, may be copied, retransmitted, reposted, duplicated or otherwise used without the express written permission of USA Civil War.com.
---