U. S. CIVIL WAR
PHOTOGRAPHS
J. E. B. STUART

In the text, the icon

is a link to the definition of the word it marks.
Use your browser's "back" button to return to this page.
---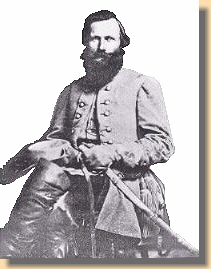 20
J.E.B. STUART
1833 - 1864
&nbsp
Born February 6th, 1833, in Patrick County Virginia, Stuart, after graduating from West Point, served in the Mounted Rifles until 1861, when he joined the Confederacy. As a cavalry officer, Stuart commanded Lee's mounted units, and provided the "eyes" of Lee's Army of Northern Virginia. In 1862 he became famous for his reconnaissance-in-force, riding, with 1200 men, completely around the Army of the Potomac under Union General George B. McClellan. Until his death in 1864, Stuart played a major role in all of Lee's battles.

At Chancellorsville, Stuart replaced Stonewall Jackson, who was mortally wounded, and commanded his corps competently. However, Lee returned him to the calvalry because he was more valuable there.

At Gettysburg, Stuart, due mainly to ambiguous orders, made a controversial raid around the Federal army, leaving Lee "blinded" as to what the Federals were doing. Although some historians believe that the Confederate defeat at Gettysburg was primarily Stuart's fault, John S. Mosby, the Gray Ghost, wrote a persuasive defense of Stuart after the war. On May 11, 1864, at Yellow Tavern, outside of Richmond, Virginia, Stuart was mortally wounded. He died the next day.




Near a major Richmond area shopping center and the J.E.B. Stuart parkway stands this monument, in a Henrico County residential area, marking the location where J.E.B. Stuart was mortally wounded.





Text on the monument:




UPON THIS FIELD

Maj. Gen. J.E.B. STUART

COMMANDING CONFEDERATE CALVERY

A.N.V.

RECEIVED HIS MORTAL WOUND

MAY 11, 1864





The two plaques on the monument's base read:
&nbsp

GEN. J.E.B. STUART

BORN FEB. 6, 1833,

DIED MAY 12, 1864.




THIS MONUMENT ERECTED IN
MEMORY OF MAJOR GENERAL
JAMES EWELL BROWN STUART,
C.S.A. BY HIS CAVALRYMEN
ABOUT THIRTY FEET FROM THE
SPOT WHERE HE FELL MORTALLY
WOUNDED ON MAY 11, 1864, WAS
DEDICATED JUNE 18, 1888, BY
THE GOVERNOR OF VIRGINIA,
FITZHUGH LEE, A FORMER
DIVISION COMMANDER IN
STUART'S CAVALRY

RE-DEDICATED MAY 9, 1964,
HENRICO COUNTY CIVIL WAR
CENTENNIAL COMMISSION.


---
Location of the J.E.B. Stuart Monument, shown above.
(Approximately twelve miles north of Richmond, Va.)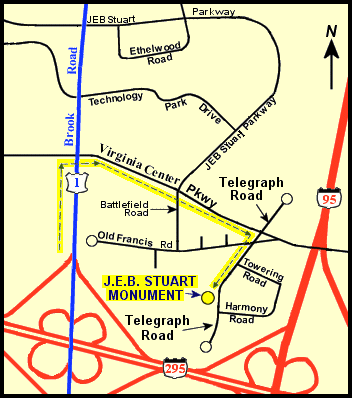 ---
After being wounded at Yellow Tavern, Stuart was moved to
Richmond where he died in the home of his brother-in-law.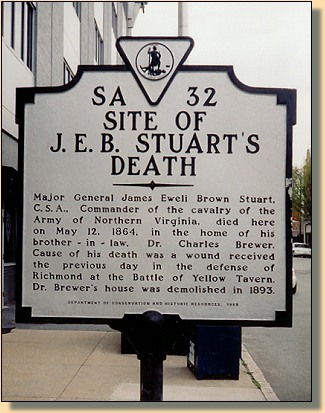 Where J.E.B. Stuart Died
262
J.E.B. Stuart's Grave Site
Left, 1865 temporary marker; Right, final monument.
Hollywood Cemetery, Richmond, Virginia.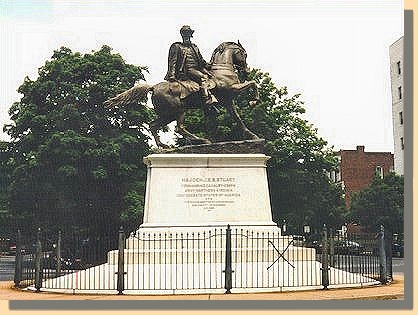 J.E.B. Stuart's Monument,
Monument Avenue, Richmond, Virginia.
---

&gt Civil War Photos &gt J.E.B. Stuart

---
Notes