&nbsp
July 1-3, 1863
Estimated Casualties: 51,000 total (US 23,000; CS 28,000)

On July 1, 1863 at Gettysburg, a small town in southern Pennsylvania, Confederate General Robert E. Lee concentrated the full strength of the Army of Northern Virginia

against Union Major General George G. Meade's Army of the Potomac

.

On June 30, 1863, Lee learned that Gettysburg was occupied by Brigadier General John Buford's Union cavalry. Accordingly, he sent Hill's Corps (Generals Heth and Pender) down the Chambersburg Road, early in the morning of July 1, to drive away Buford's cavalry and occupy the town.

Encountering Buford's resistance about two miles from town, General Heth deployed two brigades in line and pressed forward. Around 10 a.m., Union General John F. Reynolds, commanding I Corps, arrived on the field (relieving Buford) and ordered I Corps and General Oliver O. Howard's XI Corps to march into Gettysburg. As Reynolds directed forces into the line, he was killed by enemy fire.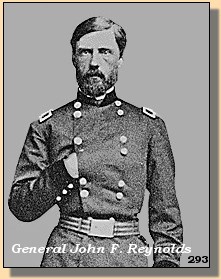 &nbsp &nbsp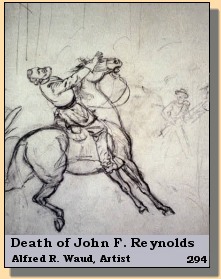 Later Confederate forces converged on the town from west and north, driving Union forces through the streets to Cemetery Hill.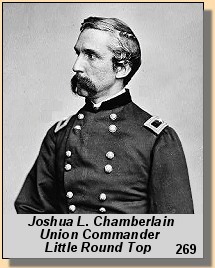 During the night, reinforcements arrived for both sides. On July 2, Lee attempted to envelop the Federals, first striking the Union left flank

at the Peach Orchard, Wheatfield, Devil's Den, and the Round Tops with Longstreet's and Hill's divisions

, and then attacking the Union right at Culp's and East Cemetery Hills with Ewell's divisions. By evening, the Federals retained Little Round Top and had repulsed most of Ewell's men. During the morning of July 3, the Confederate infantry were driven from their last toe-hold on Culp's Hill. In the afternoon, after a preliminary artillery

bombardment, Lee attacked the Union center on Cemetery Ridge. The Pickett-Pettigrew assault (more popularly, Pickett's Charge) momentarily pierced the Union line but was driven back with severe casualties

. Stuart's cavalry attempted to gain the Union rear but was repulsed. On July 4, Lee began withdrawing his army toward Williamsport on the Potomac River.
(Text Source: U.S. Gov't, National Park Service, and others.)
&nbsp