U. S. CIVIL WAR
PHOTOGRAPHS
WHITE OAK SWAMP
In the text, the icon

is a link to the definition of the word it marks.
Use your browser's "back" button to return to the page.
---
51
White Oak Swamp - 1860s.

White Oak Swamp - 1999.
&nbsp
June 30, 1862
Estimated Casualties: 500 total

The Union rearguard under Maj. Gen. William Franklin stopped Jackson's divisions at the White Oak Bridge crossing, resulting in an artillery duel, while the main battle raged two miles farther south at Glendale or Frayser's Farm. White Oak Swamp can be considered part of the Glendale engagement.
(Text Source: U.S. Gov't, National Park Service)
&nbsp



White Oak Swamp Sign.

SEVEN DAYS BATTLES
WHITE OAK SWAMP
-----------


HERE THE GREATER PART OF MCCLELLAN'S
ARMY AND WAGON TRAINS CROSSED THE
SWAMP, JUNE 28-30, 1862. JACKSON,
PURSUING, ARRIVED ABOUT NOON ON JUNE &nbsp
30, TO FIND THE BRIDGE DESTROYED AND
THE UNIONISTS HOLDING THE SOUTH SIDE.
FAILING TO FORCE A PASSAGE THAT DAY,
JACKSON REBUILT THE BRIDGE AND
CROSSED EARLY ON JULY 1.



The Sign's Text .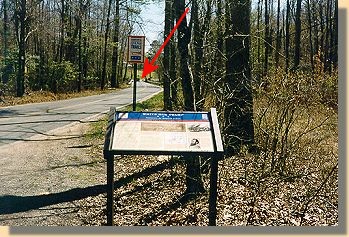 White Oak Swamp Interpretive Sign
&nbsp


White Oak Swamp Road Construction


Presently the White Oak Swamp bridge is being replaced. As a result, parking at the road-side sign is blocked and the "Interpretive Sign" has been removed. The red arrow in the three photographs above indicates the location of the old bridge. The blue arrow (construction photograph) points to the new one.
&nbsp
---

&gt Civil War Photos &gt Richmond - Outlying &gt White Oak Swamp

---

Notes