U. S. CIVIL WAR
PHOTOGRAPHS
THE WILDERNESS MAP

---
A DESCRIPTION OF THE MAP USED IN THIS SECTION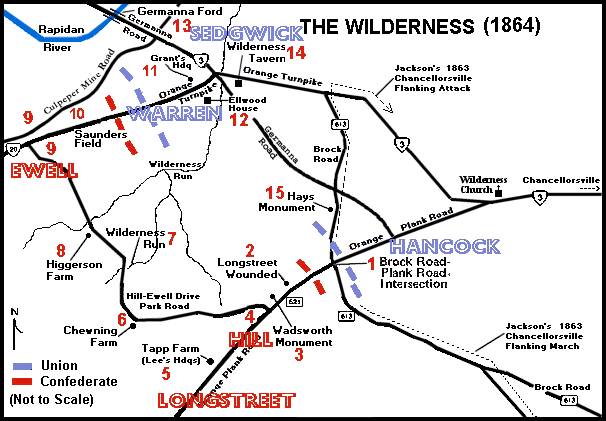 Click on a number on this map to see a photograph from that location.
The numbered locations on this map are shown in parentheses (   ) in the text.
 


Map Summary



This rather busy map of the Wilderness Battlefield (outlined in the Theater of Operations Map on the first page), appears at the beginning of each of the pages in this section. It has numbers, which are enclosed in parentheses in the text (   ), marking the location of the photographs and the events described in the text. If you click on one of the numbers on the map you will see a photograph from that area.

Jackson's flanking march around the Union line, during the May, 1863 battle at Chancellorsville, is marked by a dotted line along the Brock Road. It is provided in order to give the viewer an idea of the proximity, and overlap, of the two battlefields.

An extension of the Germanna road (from the Orange Turnpike to the Orange Plank Road), and the Culpeper Mine Road which appear on this map, are not present today. It should also be noted that the old Orange Turnpike ran south of the Wilderness Tavern rather than north of it as route 3 currently does and as is reflected on the map.


 
Return to Wilderness Page Two
---

&gt Photos &gt The Wilderness &gt Page 2 &gt Wilderness Map

---
© Copyright 2000 - 2017 by USACivilWar.com.