&nbsp
New Market was a hard-won victory for the Confederates: The V.M.I. cadets had captured a cannon but ten cadets were killed and 45 were wounded. The cadets killed were:


KILLED ON THE BATTLEFIELD

Cabell, William H.
Crockett, Charles G.
Jones, Henry J.
McDowell, William H.
Stanard, Jaqueline B.

DIED OF WOUNDS

Atwill, Samuel A., 20 Jul 64
Hartsfield, Alva C., 26 Jun 64
Haynes, Luther C., 15 Jun 64
Jefferson, Thomas G., 18 May 64
Wheelwright, Joseph C., 2 Jun 64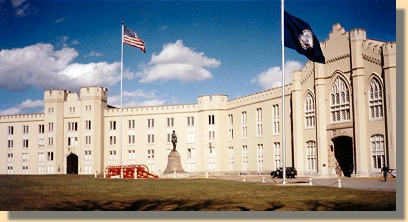 Virginia Military Institute (Barracks)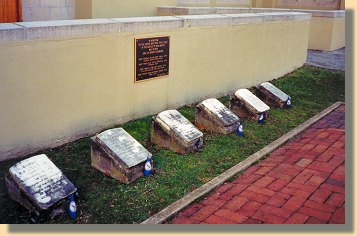 Six of the cadets who were killed at New Market are buried at V.M.I.

The graves for the six cadets are (from left to right):
Samuel A. Atwill
Charles G. Crockett
Thomas G. Jefferson
Henry J. Jones
William H. McDowell
Joseph C. Wheelwright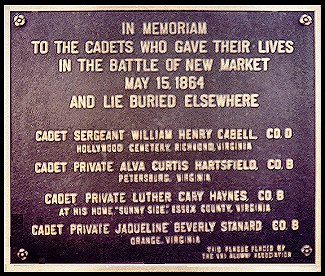 The Plaque above the Cadet Graves at V.M.I.
It lists the four cadets killed at New Market who were buried elsewhere.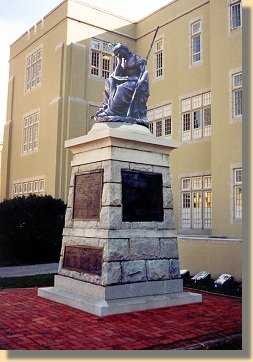 This monument in front of the Cadet graves is titled,
"Virginia Mourning Her Dead."
(The Nichols Engineering Hall is in the background.)
This 1903 monument is the work of sculptor Sir Moses Ezekiel, a member of the VMI Corps at New Market and an Institute graduate, Class of 1866. A plaque on the monument lists the 10 cadets killed and the 49 wounded at the battle of New Market.

However, since V.M.I. records show that 45, not 49, cadets were wounded at New Market, who are the other four listed on the plaque?

According to the VMI Archivist, among those listed as wounded are two cadets, who later died of their wounds (and are also listed among the cadets killed), and two VMI staff members who were also wounded. Subtract the double listing (2) and the 2 staff members, and you arrive at the number of cadets wounded, 45.
Of the 55 Cadets wounded or killed at New Market, 49 were from Virginia (including 7 killed), 4 were from North Carolina (including 3 killed), 1 was from Alabama, and 1 was from Mississippi.

Overall Southern casualties at New Market were 540, against 840 for the North.



&nbsp