&nbsp
PHOTOGRAPHS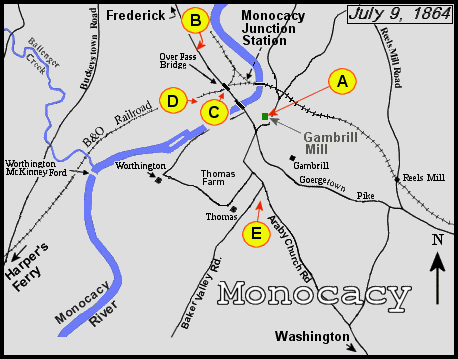 Monocacy Map - Location of Photographs
Click on one of the circled letters to see a representative photograph.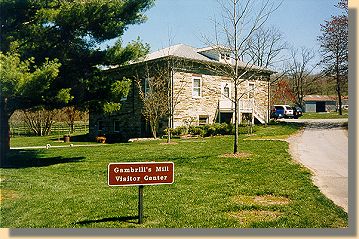 Monocacy N.P.S. Visitors Center &nbsp (A)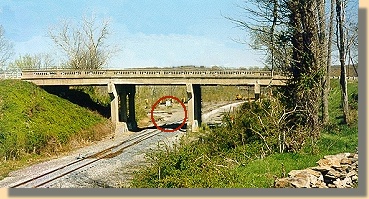 Monocacy Junction &nbsp (C)
Monocacy Junction (located at the circle on the above photograph) was the center of the Union infantry skirmish line consisting of troops of the 1st Maryland Potomac Home Brigade

and detachments of the 106th New York, the 9th New York Heavy Artillery

(troops only, no guns) and the 10th Vermont.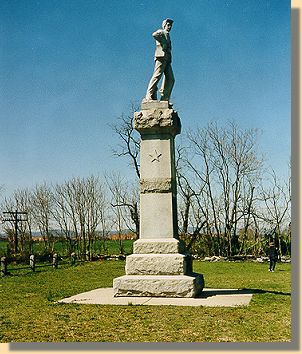 14th New Jersey Regiment &nbsp (D)
The monument to the 14th New Jersey Regiment

was dedicated in July of 1907. Also known as the "Monocacy Regiment," the 14th New Jersey served as guards for the bridges at Monocacy junction in 1862-63. In 1864, during the Battle of Monocacy, the 14th New Jersey fought with distinction in some of the heaviest fighting of the day in and around the Thomas Farm.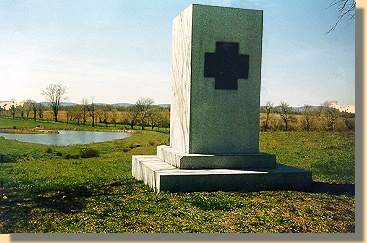 10th Vermont Monument &nbsp (E)
(The Thomas farm is in the background.)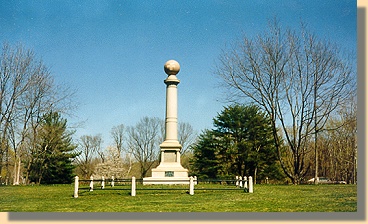 Monument to the 67th, 87th, and 138th Pennsylvania Volunteers &nbsp (E).




&nbsp