U. S. CIVIL WAR
PHOTOGRAPHS
KELLY'S FORD
Battle Fought March 17, 1863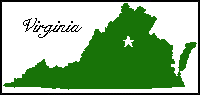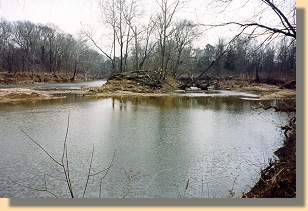 Approximate location of Kelly's
Ford on the Rappahannock River.
(A)
In the text, the icon

is a link to the definition of the word it marks.
Use your browser's "back" button to return to this page.
---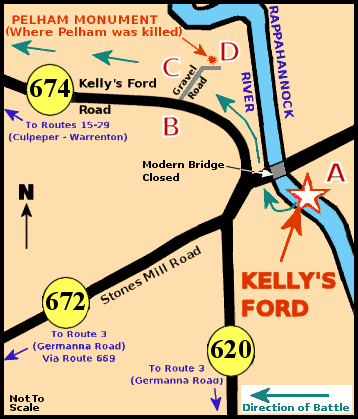 Kelly's Ford Area Map.
The Kelly's Ford of 1863 (star on the map) crossed the Rappahannock River downstream from the present bridge (Which was closed at the time of this writing). The letters on the map indicate where the photographs on this page were taken.
&nbsp
March 17, 1863
Estimated Casualties: 200 total

Kelly's Ford was one of the early larger scale cavalry fights in Virginia that set the stage for Brandy Station and cavalry actions of the Gettysburg campaign. Twenty-one hundred troopers of Averell's cavalry division crossed the Rappahannock River to attack the Confederate cavalry. Fitzhugh Lee counterattacked with a brigade of about 800 men. The "Gallant" Pelham was killed. (See my John Pelham page.) After achieving a localized success, Union forces withdrew in mid-afternoon. (Text Source: U.S. Gov't, National Park Service)


&nbsp
Road side sign indicating the
location of Pelham's Marker. (B)

A long walk down a road in the woods. (C)


During the course of the battle, Union troops were to the right of this road and Confederate troops were to the left. (See the green arrows on the map, above.)


Cut into a forest, this monument marks where Pelham was mortally wounded. (D)




MAJ JOHN PELHAM C.S.A.
COMMANDING
THE STUART HORSE ARTILLERY
WAS MORTALLY WOUNDED
AT THIS SITE IN
THE BATTLE OF KELLY'S FORD
MARCH 17, 1863

ERECTED 1981
BY ADMIRERS OF
THE GALLANT PELHAM


---

&gt Civil War Photos &gt Kelly's Ford

---