U. S. CIVIL WAR
PHOTOGRAPHS
SAVAGE'S STATION
(PAGE 1 OF 2)

In the text, the icon

is a link to the definition of the word it marks.
Use your browser's "back" button to return to the page.
---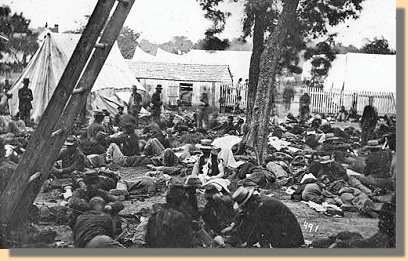 63

Union Wounded at Savage's Station
(From the June 27, 1862, Gaines' Mill battle).
&nbsp
June 29, 1862
Estimated Casualties: 4,700 total (US 2,500 wounded were captured)

Fourth of the Seven Daysí Battles. On June 29, the main body of the Union army began a general withdrawal toward the James River. Magruder pursued along the railroad and the Williamsburg Road and struck Sumner's Corps (the Union rearguard) with three brigades near Savage's Station. Confederate Brig. Gen. Richard Giffith was mortally wounded during the fight. Jackson's divisions were stalled north of the Chickahominy. Union forces continued to withdraw across White Oak Swamp, abandoning supplies and more than 2,500 wounded soldiers in a field hospital.
(Text Source: U.S.Gov't, National Park Service)
&nbsp
62
McClellan's Headquarters at
Savage's Station - 1862.
Savage's Station - 1998.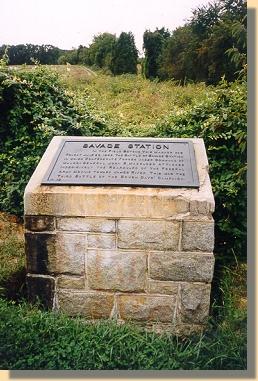 Savage's Station Marker - 2000.
&nbsp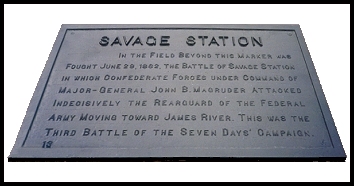 Savage's Station Marker Plaque.
Click Here to read the text



PAGE TWO


---

&gt Civil War Photos &gt Richmond - Outlying &gt Savage's Station

---
Notes