&nbsp
If you follow General Winder Road (left off of route 15 just north of the signs above) for about one-fourth of a mile, you see this fenced-in marker, which indicates that near here, Stonewall Jackson used his scabbard (he was unable to remove his rusted-in sword from it) to rally his troops after they were overrun by a Union flanking

movement.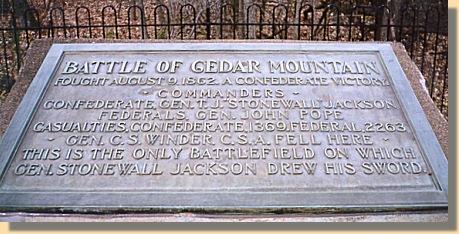 (B)
Monument Plaque
BATTLE OF CEDAR MOUNTAIN
FOUGHT AUGUST 9, 1862. A CONFEDERATE VICTORY.
* &nbsp COMMANDERS &nbsp *
CONFEDERATE GEN. T.J. "STONEWALL" JACKSON
FEDERALS GEN. JOHN POPE
CASUALTIES, CONFEDERATE 1369, FEDERAL 2263
GEN. C.S. WINDER, C.S.A. FELL HERE
THIS IS THE ONLY BATTLEFIELD ON WHICH
GEN. STONEWALL JACKSON DREW HIS SWORD.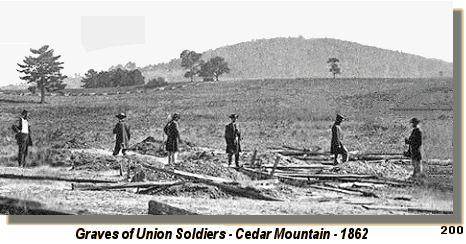 &nbsp