U. S. CIVIL WAR
PHOTOGRAPHS
APPOMATTOX
(PAGE 3 OF 6)


---
32
McLean House - 1865

McLean House - 1998

Where the surrender occurred. This is the same McLean whose house was on the battlefield at First Manassas.

Lee's Table (Reproduction)

Grant's Table (Reproduction)

Contrary to some paintings, Lee and Grant did not sit at the same table during the surrender negotiations.
Location of the Surrender Tables


Lee's Table is in the Chicago Historical Society Museum. It was taken from the McLean parlor by General Edward O.C. Ord who claimed he paid $40 for it. It was stored at Fort Monroe until 1887, after Ord's death. It was then sold to C.F. Gunther, Chicago businessman whose relics were later passed to the Chicago Historical Society.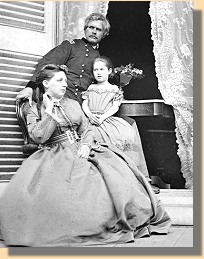 &nbsp 233
Gen. Ord and family at the residence of Jefferson Davis,
April 1865. Lee's surrender table is in the doorway.

Grant's Table is in the Smithsonian Institute, Armed Forces Division. It was taken by General Sheridan who offered $20 in gold to McLean who refused the offer. The table was taken anyway and money thrown on the floor. The table was sent to Mrs. Custer by her husband and loaned to the Smithsonian in 1912. Title to the table was transferred in 1936, ten years after Mrs. Custer's death.

Source (in part): National Park Service


---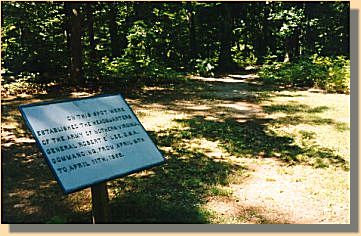 Site of Lee's Final Headquarters at Appomattox
&nbsp &nbsp

ON THIS SPOT WERE &nbsp &nbsp
&nbsp &nbsp
ESTABLISHED THE HEADQUARTERS &nbsp
OF THE ARMY OF NORTHERN VIRGINIA &nbsp
GENERAL ROBERT E. LEE C.S.A. &nbsp
COMMANDING FROM APRIL 8TH &nbsp
TO APRIL 11TH, 1865.


PAGE FOUR
---

&gt Civil War Photos &gt Appomattox &gt Page 2 &gt 3 &gt 4 &gt 5 &gt 6
---
Notes